Val-Matic ® Valve & Manufacturing Corp. is a leading manufacturer of check valves, quarter turn shut-off valves and air valves for water/wastewater, industrial and building markets. Valve types include Tilted Disc ® , Dual Disc ® , Swing-Flex ® , Surgebuster ® , Silent Check Valves, Eccentric Plug Valves, AWWA Butterfly Valves, Air Valves, Foot Valves, VaultSafe ® products, Ener-G ® AWWA Rubber Seated Ball Valves, Smart Control Systems, and QuadroSphere ® Trunnion-Mounted Ball Valves.
Val-Matic ® was founded in 1966 by Andrew Nuter and Ted Makowan with one product line: the Silent Check Valve. Within a year, work had begun on Val-Matic's second product line, Air Valves, which would become the Company's signature product line, the one in which it is most readily identified with. Today, Val-Matic manufactures nine types of air valves and is the leading supplier of air valves in North America.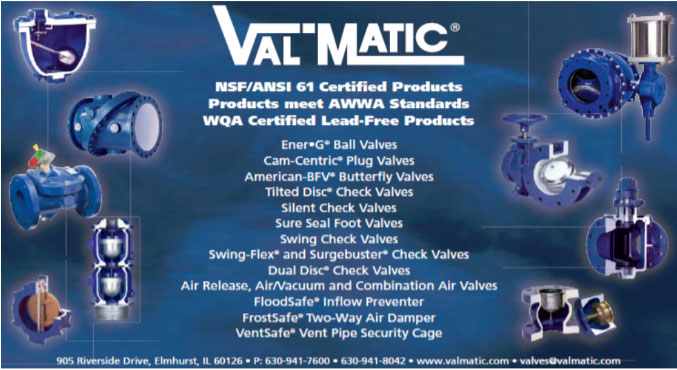 Val-Matic is an ISO 9001:2008 certified Company and is proud to be an Employee Stock Ownership Plan Company (ESOP).
Domestic Sourced/AIS items from stock for EPA State Revolving Fund (SRF) projects in compliance with the Consolidated Appropriations Act, January 17, 2014, American Iron Steel (AIS) requirements.