Raci casing spacers provide versatility, flexibility and measurable strength all in a hurry.
Click the Raci Logo to be taken to website.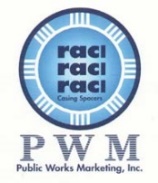 Versatility: 
Raci casing spacers are a modular system with manual tooth insertion assembly making them very versatile.  For example, the same spacer element can be used on 6" pipe or on 24" pipe, the only adjustment is how many pieces used to go around the circumference of the pipe.
Raci spacers can be installed on coated or plain concrete, ductile iron, plastic and steel pipe on sizes 2" and larger.
Flexiblility:
Due to their versatility, Raci spacers are able to be returned.  We understand things can change on a jobsite and Raci spacers can roll with these changes by accepting returns on unused elements and being able to quickly ship new spacers.
Measurable Strength:
Raci is the only spacer that publishes load carrying capacity for each type and size of spacer.
Due to their design, Raci spacers provide support around entire circumference of the carrier pipe with a minimum of one row of projections for every inch of carrier pipe OD.  This design also allows for turning pipe during installation without support concerns.
In a Hurry?
Raci casing spacers typically can ship same day when ordered before noon, or can be ready for pick up in Dallas, Texas warehouse within hours of ordering.
Made entirely of injection molded HDPE with no metal bolts or attachments required, Raci spacers provide long term corrosion protection.
Call us so we can calculate and price which Raci spacers are needed on your next project.